PlayMaker can be customized to add new fields, increase exists options, and, in some cases, relabel fields to best fit your organization. This article will walk through how to create new fields in PlayMaker.
Creating a New Field:
1. Click on the Setting link in the top right corner of the page.
2. Once the Account Info Page appears, click on Objects under the Customize section on the left side of the page.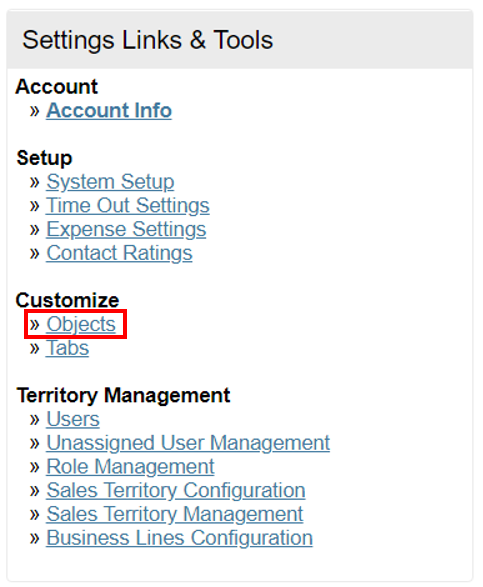 3. The Customize Objects page will appear presenting you with options to update or add to. Click Edit next to the desired tab.
4. Once the custom object page appears, click the New Field button in the top middle of the page.
5. Step 1: Select Field Type will appear along with a list of field types will be provide to ensure that the new field is formatted to your liking. 
Some of the commonly used options are Text (255 character limit), Picklist, List, and Date. The field can be changed if the type turns out to not display how you would like.
6. Step 2: Field Options will appear. Fill in the information listed. Context around common fields are listed below
Field Label: What the name of the field will be displayed as when created
Required?: Determines if the field has to be filled in or can be left blank.
Read Only?: Determine if a field can be edited or only be viewed
Restrict Access: Allow for a new field to only be visible to user with a specific role in a specific business line.
Group/Create a New Group: Determines which main section the field will reside under. Also allows the creation of a new section.
Order: Determine which field the new field will appear before or after.
7. Once all the information has been added, click Save at the bottom of the page.
The new field should be available immediately; however, a user may need to log out and back into PlayMaker to see the changes applied. Additionally, the new field will be added to all existing records.