Overview
Once your accounts are set up and assigned to you, you will want to make sure that all of your contacts are up to date.
Definition - Contacts are individuals who are found at an account, and are the people that marketers/liaisons visit regularly.
In this article
Start on the Accounts page
Although you could validate your contacts on the Contacts page, (and there will be times when you will want to complete tasks there), there are numerous advantages to using the ACE process for all of your contact validation and management.
One immediate advantage to following the ACE process for validating your contacts is that, since you are looking at one account at a time, you only need to think about or remember contacts at the single facility. Going through your accounts one-by-one to check your contacts keeps the effort contained to a smaller group of contacts.
| | |
| --- | --- |
| Click on the "Accounts" button in the left navigation to open the Accounts page. | |
From the Accounts page
Make sure that you have used the "Showing View" dropdown to view "My Accounts."
Then, click on the word "View" to the left of the account name you want to view.
When you click on "View," the Account Details page for the selected account will open.
(The image below only shows the content of the page down as far as needed for this article.)
Scroll to Contacts
When you scroll down to Contacts, you will see the following content.
This view will only show contacts associated with the account for which this is the Account Details page. If a person is not visible, that does not mean they are not a contact, or not your contact. This is one reason that making sure that contacts and accounts are connected.
Validate your Contacts
Your task at this point is to compare the list on this page to a list you have in your head, or on your phone (or wherever) and add any contacts that are missing.
This is largely an exercise in comparing lists or remembering everyone you can. As you identify missing contacts, you can either create a list to add as contacts all at once, or jump to the next step and start creating contacts one at a time as you think of them.
Create any New Contacts
When you are ready to add contacts, click on the "New Contact" button. The form in the following image will open. This is the whole page, and we are only going to give you a few tips in this article.
For the complete content, see Creating New Contacts.
Notes on creating a contact
The only required content is the contact's first and last name.
If you click on the "Copy Account Details" button, you can choose a from a selection of fields to automatically copy to this contact. (next image)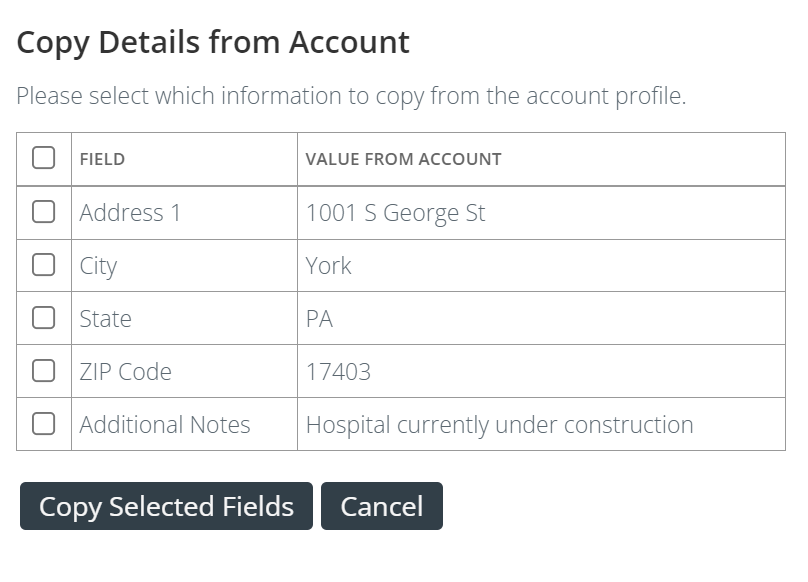 Since you will create this contact using the ACE process (that is, from within the Accounts page) the new contact will automatically be associated with the selected account. (See image)
Fill out as many details as you can.
Click Save when you are done.
Next Step
Congratulations! You are now ready for Step 4 - Build your Calendar of Events.
Additional Resources