The Trend & Rank report is a standard report that provides visibility into monthly admission trends for marketers based on their tenure with your company. It can be used to ensure that new hires are getting up to speed, compare activities from seasoned reps for a "knowledge share" opportunity, and much more!

There are a few components within Spark that have to be configured in order to get the best results out of this report:
Admissions
Referrals with a status of "Admit" must be entered in the Referrals tab in order to populate in this report. These can be pulled in from your EMR if you have an active integration into Spark, or can be entered manually. Additional information on default referral field definitions can be found here.
Date of Hire
In order to establish your user's tenure, you must enter their date of hire. Date of Hire can be found under Settings >> Users and then editing the user's profile, and best practice is to enter this when the user's profile is first created.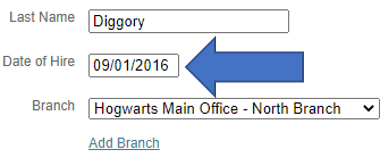 Tenures
The Tenures tab is an administrative tab that pulls different Dates of Hire together into the groups that you'd like to report on. The Tenures tab is not visible to all users; if you do not see the Tenures tab please reach out to your Account Manager for provisioning assistance.
To create a new tenure:
Click Tenures >> New Tenure

Then enter the details that you would like to capture. Tenures are counted monthly from the Date of Hire, and there is no limit to the number of tenures you can capture.
Description: the title or name
Minimum Month: the earliest month that falls within your tenure range
Maximum Month: the latest month that falls within your tenure range
Average Per Month: the average admissions captured for this range
Below, "First 90 Days" has a minimum month of "0" and maximum month of "3" - beginning at the Date of Hire and ending at three months.

When your tenure details are entered, click Save.
Report Options
Once the component pieces are configured, your Trend & Rank report will return results! Details can be extracted from the report by setting specific filters or parameters before running the search - ones unique to this report include:
Setting the "From" and "To" months for the admission counts
Admission counts Above or Below Average
Individual Tenures