Marketscape CRM's configurable dashboards allows both managers and individual reps to pull relevant metrics from multiple locations within the CRM easily. If you can select options from a dropdown menu, you can start using configurable dashboards today! 
By clicking on the "Dashboards" button in the left navigation, users can configure, save, and share multiple user-defined dashboards. Each dashboard can be configured to display various individual and team metrics dependent upon your role permissions, allowing users to monitor and evaluate performance.
Clicking on the Dashboards tab takes you to a default dashboard page. At the top of the page you will see the following options:
Using these tools you can:
Select a dashboard from the "Change Board" dropdown list. The list will include all custom dashboard to which you have access

Clicking

Edit

 on any dashboard will take you to the dashboard editor

Click Delete to delete the currently selected dashboard
Click Duplicate to create an identical dashboard to the selected one - this will allow you to make edits without making changes to an existing dashboard.
Click New to create a new dashboard
Click Share to share a dashboard with other users
Clicking on the Edit button will open the edit mode for the selected dashboard
Layouts - There are four different default layouts to choose from when you create a new dashboard! If you choose a different layout for an existing dashboard, you will be warned that making the change will clear the current layout. In other words, don't change the layout on an existing dashboard unless your intent is to rebuild that dashboard.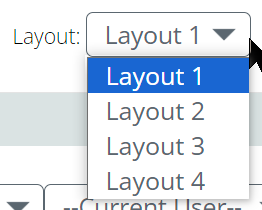 Default - Ummm... to make the selected dashboard your default.
Choosing Metrics - The dropdown allows you to choose which metric shows up in the location. Depending on your role, different users will be visible in the "Current User" dropdown.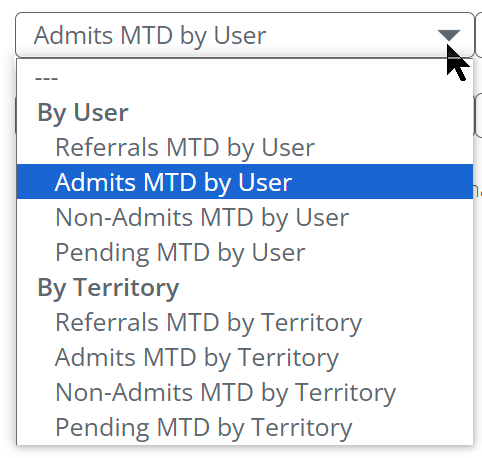 Add/Remove - for a specific table or chart, you can choose to add or remove metrics.
Reporting period - For each chart or table, you can choose the length of the reporting period.
Create/edit your own unique dashboard using numerous metrics aggregated at the user, territory, business line, insurance type, or overall organization level. Simply select the metrics that you want to see from the dropdown menus, adding or removing lines that you'd like to compare, and then click Save. Your data, your way – it's that easy! 
For more details, see Configurable Dashboards