Overview
From time to time, contacts or accounts need to be removed from Marketscape CRM but historical data needs to be maintained. For example, Sally Smith (Case Manager) no longer works at ABC Medical Group (Account). Even though she's no longer an active contact, we don't recommend deleting her contact record because she could begin employment at another account in your system!
Below are a few ideas to maintain your data history and integrity within Marketscape CRM.
Recommendations:
Create Custom Fields
There are endless ways to customize the Marketscape CRM experience so that the system works how you need it to. One way to control inactive accounts or contacts is by creating a custom field. Below you will find the examples of the two most common options: Checkboxes and List Options. Once the options are created, they can be pulled into any view so managers or marketers can easily identify which accounts or contacts are inactive without having to review each record individually.
For more information on creating a custom object, click here.
Please note that if your agency has a connection with your EHR, these fields will need to be manually maintained.
Checkbox
Using a checkbox like the one below is a great way to solve the simple question of, "Is the record inactive?"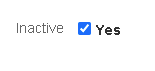 List Options
Using a list option is a great way to add additional context around the reason an account or contact is no longer active.

Similar to a checkbox, yes or no options can also be added as a list.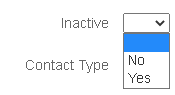 Un-assign Shared Owners
If adding a custom field isn't an option your agency would like to pursue, marketers can also be removed as a shared owner. Removing users prevents a record from appearing in a user's book of business and therefore reducing the overall number of accounts or contacts they are expected to call on.
For more information on removing shared owners, click here.
Modify Names
The last option we recommend for inactive records is to update either the First Name, Last Name, or Name fields. Whether that's with "INACTIVE" in a field or "XX", whatever makes the most sense to your agency is the best choice!
Please note that if your agency has a connection with your EHR, these fields could be overwritten if updates are made to the record.
Contact Examples:


Account Examples: