From the Account (Recommended)
Creating an event from the Account will automatically associate the event with the account, requiring one less field of data entry. There are two ways to begin scheduling the event from the account on mobile.
Swipe left on the account name from the Account list and select "New Event"

From within the Account Detail, click on "Schedule"

Once you have opened the "Create Event" screen, fill in the details:
Enter Description in the "Subject" Line (required)

BEST PRACTICE TIP: The description should be the name of the account and the event reoccurrence, if applicable

Edit start / end time and date
Select Event Type

BEST PRACTICE TIP: Use Event Types to identify moveable events (ex. routine calls) from events planned for a specific date and time

Enter a Business Purpose (required)
Account has been pre-populated
Add Attendees by associating contacts to the event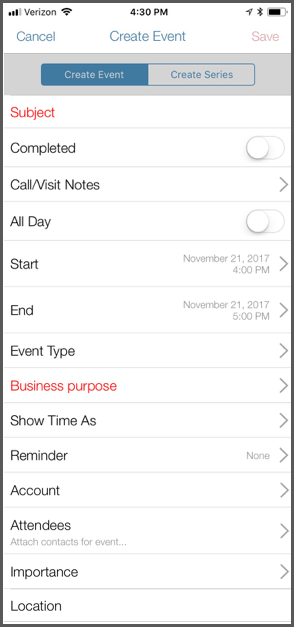 To adjust the event from a single event to recurring, select "Create Series" at the top of the screen.
From the Calendar page
This method is helpful when a user would like to see what other events are on their calendar, and is likely the first place new users will start to build out their event activity. By creating an event from your calendar you will have to associate the Account during the event creation process.
Navigate to the Calendar
Click the pencil icon at the top of the page and choose New Event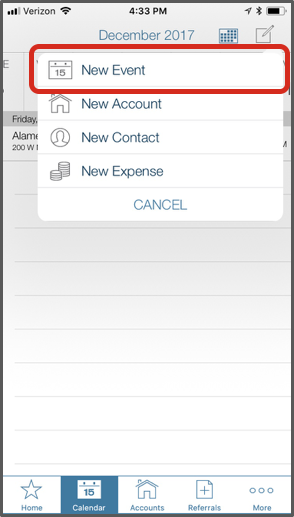 Complete the event creation by filling in the details as above, remembering to add an associated Account
Related Articles: