In Marketscape CRM, there are three ways to add a new contact:
From the Account
Since all contacts should be associated to an account, the easiest method to create a contact linked to an account is to do so from the Account Details screen. Scroll down to the Contacts section, then click the New Contact button.

From the Navigation
Mouse-over the Contacts tab link, just below the Marketscape CRM logo, then click Create a Contact from the menu that pops up (shown below).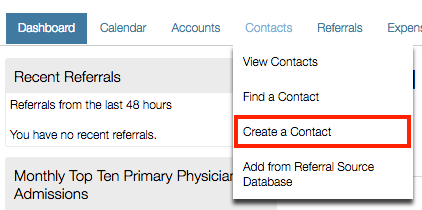 From the Contacts View
Click on the Contacts link (rather than letting the mouse hover over it), then click on the New Contact button.

Editing the Contact Details
Any of the above methods will then display the editable Contact Details screen, where the contact's information can be input. The first method listed above has two benefits that the other two do not have:
Automatically populates the Account field with the correct account.
Allows the user to click the Copy Account Details button (shown below), which will copy user-selected fields from the Account Details screen and enters them into Contact Details screen. This option is not available if the contact is not associated to an account.

If the user adding the contact is not who the contact should be assigned to (or the Shared Owner of the contact and related account), the assignment can be changed in the Shared Owners section of the Contact Details. Once all the information has been entered, click Save at the top or bottom of the page. Once saved, the Contact Details page will be displayed, and a green notice will show at the top of the record that the contact is now saved in Marketscape CRM.
Before creating a contact, it is suggested that users check the appropriate account to see if the contact already exists. Additionally, users can search the All Contacts view for the individual, as the contact may exist, but might not be assigned to the user. Additionally, by default, the only fields required on a new contact are the First Name and Last Name. Trella Health suggests that users add as much information as possible. These additional details allow users to see if the contacts are duplicates based on more criteria than a name.
The ability to create contacts may be restricted by the system administrator. If an error message is displaying when a new contact is being created, please verify your role permissions with your system administrator.
Related Articles: