From time to time, users may experience an issue where loading the TargetWatch page does not yield any results, and new users are most commonly impacted. These users will not see the physician concentration heat map or any results on any of the available tabs (resulting in a page that looks like the screenshot below). While this may seem like a problem with the TargetWatch data not functioning properly, this is experienced when a user's profile does not have any TargetWatch territories designated.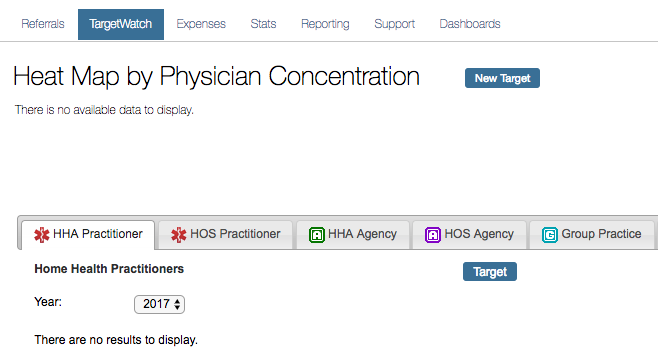 TargetWatch access can be restricted by system administrators, which helps ensure that users are provided access to areas (States or Counties) that are appropriate for them. When a new user is created, this area on a user profile is sometimes overlooked, resulting in a lack of access to TargetWatch.
To correct this, a system administrator will need to update the user profile using the steps below:
  • Click on the Settings link in the top right corner of the PlayMaker web environment.

  • Click on Users in the Territory Management section of the Settings Links & Tools box on the left side of the page.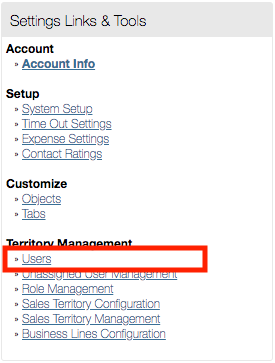 • Click Edit next to the user's profile.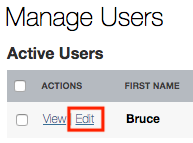 • Scroll to the bottom of the user's profile to view the TargetWatch Territory Definition section.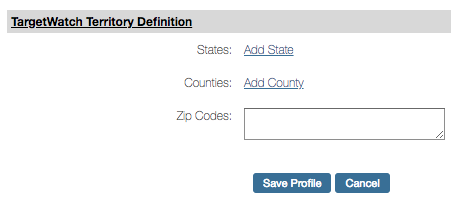 • Here, an administrator can provide access to:
     - Entire states of TargetWatch data, should they be available to your account. If only select counties are available in a given state, all counties will become available if the State is added.
     - Individual counties can be added.
     - Specific zip codes can be added, separated with a space. Note: Since TargetWatch data reporting filters down to counties, and not to specific zip codes, it is suggested to provide users with county data rather than a list of zip codes.
  • Once all appropriate TargetWatch territories have been added, click the Save Profile button to update the user's access. The user may need to log out and log back in for their access to TargetWatch to update.
Note: Since access to TargetWatch is decided upon internally by a system administrator or leadership team member, PlayMaker Support cannot add TargetWatch territories to user profiles. This process must be handled internally by the organizations PlayMaker administrator. If the administrator needs assistance with the above steps, they can reach out to PlayMaker Support directly.