Disclaimer: Even though PlayMaker Spark is not intended to be a bed management tool, we understand how important census tracking can be! The census reporting available within Spark will provide context to the reporting package as a whole, though is not intended to replace real-time/active census reporting.
PlayMaker defines the census as all admissions that do not have a discharge date. Be sure to align this with your own goals.
How does your team define census?
How does your team define ADC?
Average Daily Census Budget
The word budget in the name of the report refers to the budgeted number of admits needed to hit a goal for the territory, rather than a dollar amount.
ADC is calculated on actual average daily census vs budgeted average daily census by territory or market. Patient Days / Days in the Period = Average Daily Census.
To generate results on the Average Daily Census Budget report, a budget (goals) for each territory must be created. The Territory Goals feature is located within Sales Territory Management.
To set a territory goal:
Click Settings
Click Sales Territory Management
Click Manage Goals


Set a goal per month for each territory, as applicable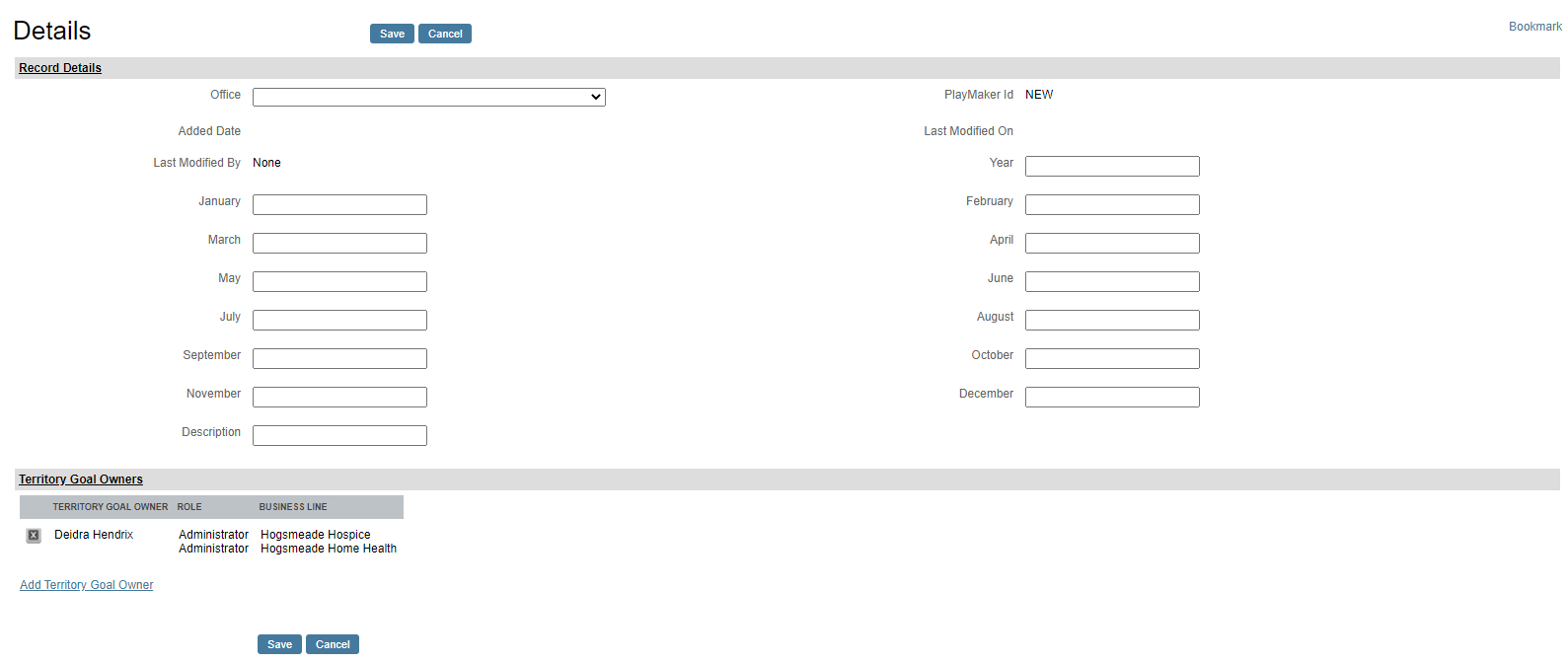 Census in Configurable Dashboards
Dashboards are updated once daily, therefore census numbers reflect accurately at the time of the last update only
The following images display the types of census tiles available in Dashboard reporting

Your own Intake team may also have different internal processes that impact how census numbers reflect. For example, if they mass update all discharge dates at one time – at EOD, for example – then the census numbers will change dramatically once that push of data flows over.
Spark Census numbers will only reflect in "real-time" if you have a real-time integration from your EMR. If you are not sure about the poll rates for your integration, please reach out to our support team for further investigation.
Create a custom view to validate the census count as a detailed referral report. Call it Admits with No Discharge Date (Census) or something similarly easy to pick out from the dropdown. You can then see which records need a discharge date and can follow up with intake/EMR team to have them corrected. Full instructions on how to create this view are in a recipe article here.


For historic referrals without a discharge date, use the mass update feature to populate a default discharge date, which will remove those records from the census.
Remember:
ADC is calculated on actual average daily census, versus budgeted average daily census by territory or market. Census reports pull directly from the referral data in the account at the time the report is run.
Any referral that has a SOC Date but doesn't have a Discharge Date will count toward your census. Is your census reflecting old referrals?

Older referrals will need to be updated with a Discharge Date, removing them from the census.
Multiple referrals can be updated at once by selecting them with the checkboxes, then using the Mass Update option in the Bulk Actions dropdown.
Once the referrals are updated, you should start to see your ADC report fall more closely in line with your actual census.