Bookmarks create a quick list of the records you need to look back on or reference often.  You can create bookmarks in the Accounts, Contacts, and Referrals tabs.
Creating a Bookmark
Navigate to the page you would like bookmarked (e.g., the Account Details screen for an account you use often).
Click on the word Bookmark, located in the upper right corner of the main display.
Enter a name for the bookmark in the window labeled New Bookmark that appears. Click OK.
Your new bookmark now will be listed on the left side of the screen in the area labeled Bookmarks.
Organizing Bookmarks
As your list of bookmarks grows, you may find it helpful to categorize them to use them more effectively (e.g., bookmarks for all contacts within a specific account grouped together).
Click Add Folder, which is located on the left side of the screen and immediately below the gray bar labeled Bookmarks.

Enter a name for the folder in the window labeled New Folder that appears. Your new
folder now will be listed in the Bookmarks section.

To add a bookmark to a folder, click on the icon to the far right of the bookmark name. Select the appropriate folder from the dropdown menu that appears in the Move Bookmark window.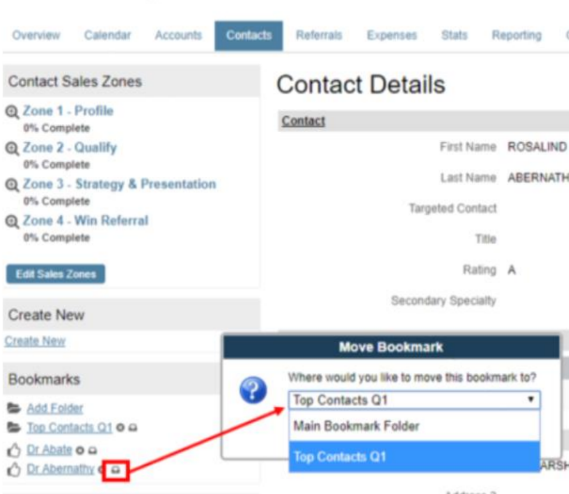 You may add folders within folders to create the level of organization that makes sense for you, such as an "A-rated" folder with sub-folders of top accounts, which then drills down to account and contact sub-folders.
To expand and view the contents of a bookmarks folder, simply click on the folder's name. The files within will be displayed in an indented format to indicate their position within the folder.